I'm very excited to be taking part in Joanne Hawker's @joannhawker #marchmeetthemaker for the second year. It's a great opportunity for me to share with you a bit about me and how I work. Here's part 1, Enjoy.
So here's little bit about me... my name is Judy andrews and I'm a graphic designer by trade, with a passion for creating, designing and making! I'm also a proud mum of one! 
For as long as I can remember I've been pretty fixated with making things. As a child, many an hour was spent with paintbrush in hand or plasticine being flattened, rolled and moulded into quirky, colourful objects. Later, when I was old enough not to poke myself in the eye, my grandmother taught me to sew, and along came bags and waistcoats and a whole host of wardrobe delights that only a kid of the 80s could be proud of. As a teen, my love for hand made jewellery began to take hold and I made a good little business selling jewellery made from Fimo modelling clay. Good enough, in fact, to earn a place on the Young Enterprise scheme! Ever the entrepreneur... Nowadays, that creative streak has become my raisin d'être. As a creative director, I'm proud to call myself a professional graphic design geek. I'm pretty much obsessed with typography - hand-drawn especially - and I still love making things. Throw in my adoration for bold, bright colours (hello neon!) and you've got the foundation for all my products, which I design and make by hand from my studio in south London.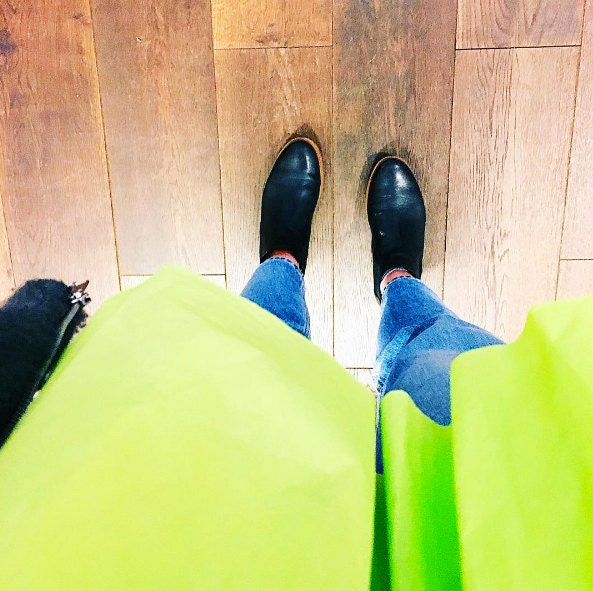 This is easy, making my lavender monsters. Each one has their own unique personalities. Also I find the lavender smell very calming. 💚 💙 💗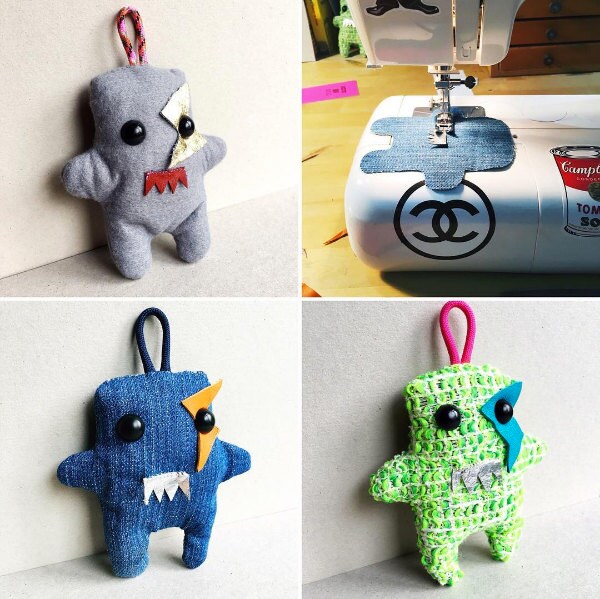 This is where the magic happens. I'm very lucky to have this amazing space at the end of my garden. We converted last summer from a garage. It now houses all materials, Bertha my vintage letterpress, my sewing machine, tools and inspiration board. What's great is that the room also doubles up as a family room. My little man photobombed this photo. All my designing happens on my mac which lives in my dinning room.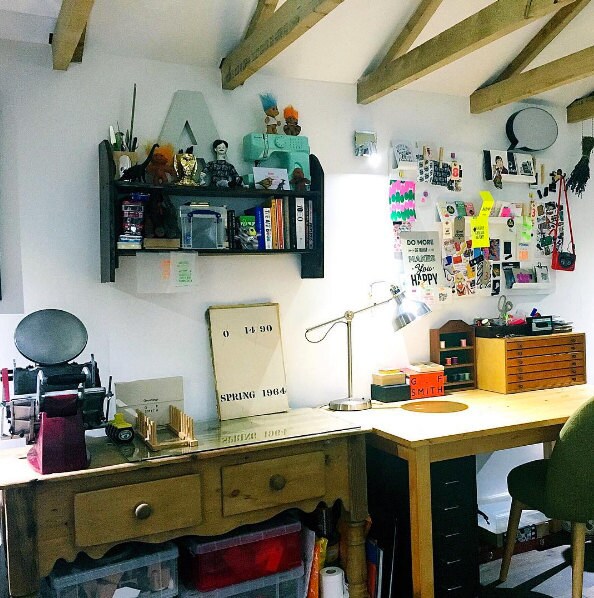 I'm a designer first, so my main tools are my pencils, pens, neon sharpies, a rubber, pencil sharpener, sketchbook and computer.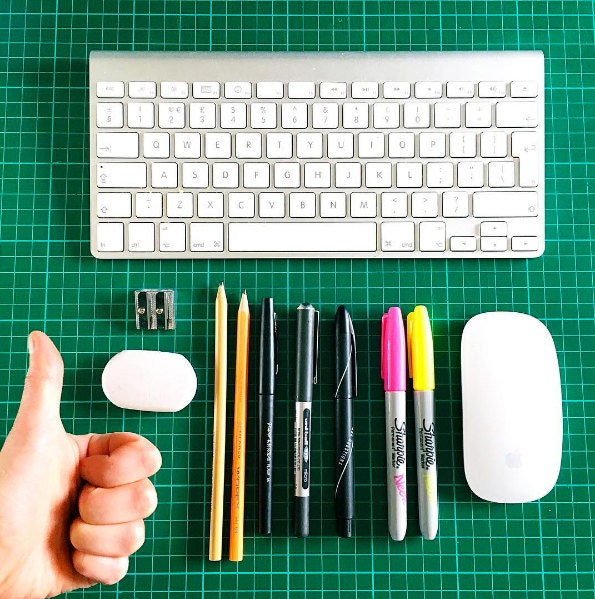 Here's a sneak preview of my new jewellery range which I'll be launching later this month.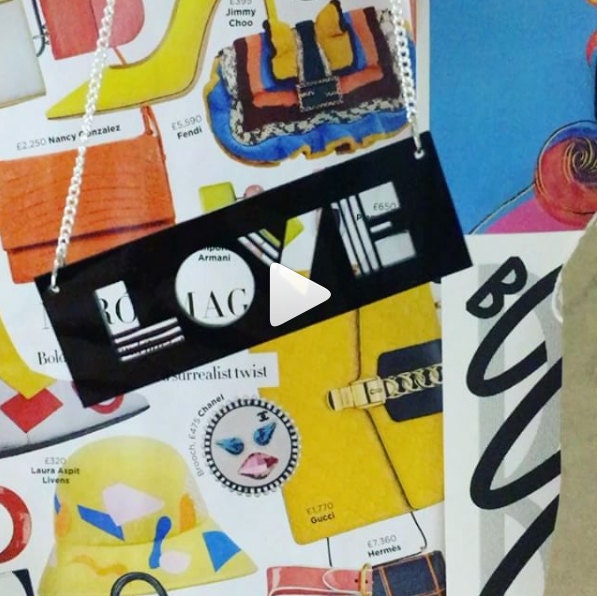 I work with lots of different materials, acrylic, wood, paper, card and fabric. I couldn't get them all in one pic so thought I'd share my fabrics they are my handdrawn typography turned into bold patterns. I'm currently working new ideas.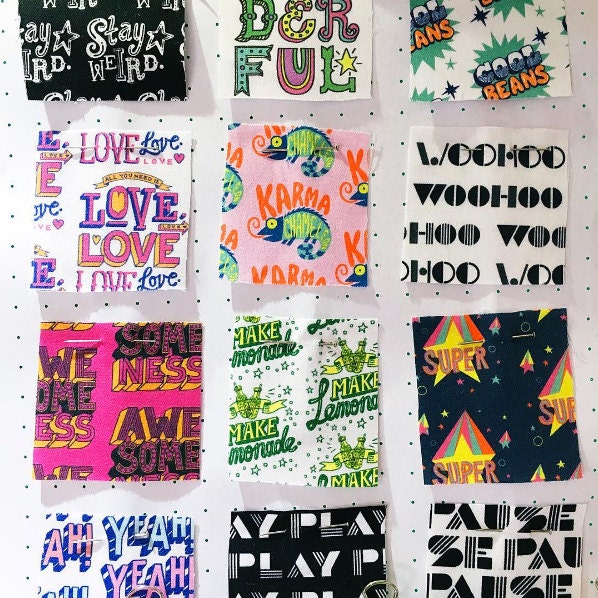 All my creations start of as sketches. I start with a rough idea, I draw it out in pencil first. I then get out my trusty sharpies usually of the neon variety and to add colour. This is one of my favourite parts as I can really see the design come to life. Once I'm happy with my sketch I then photograph and use illustrator on my mac to turn into the flat graphics. From this I then create my patterns and prints.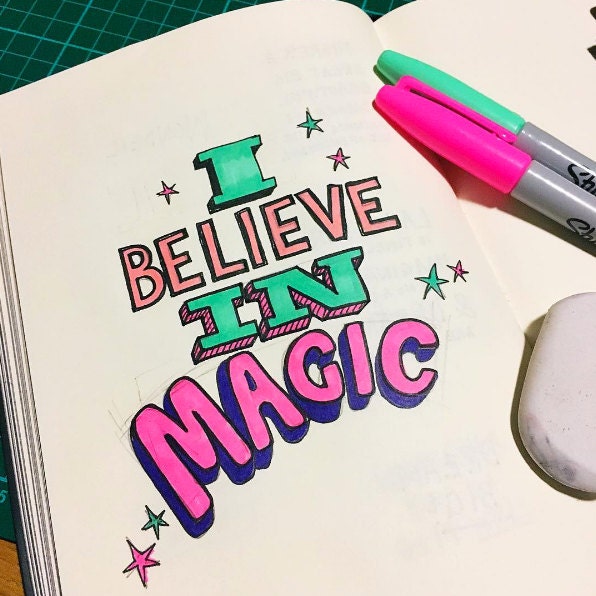 I'm very lucky to have the best of both worlds. I'm based in south London so great for popping into London to see art exhibitions. I also live walking distance from an amazing park where it feels like you're in the country! It's called nonsuch park, it's where king Henry the 8th used to go hunting and where he built an amazing palace to celebrate the birth of his son called 'Nonsuch Palace' as there was no such place like it. It's where I go most weekends to relax, here's my little man discovering puddles and umbrellas all at the same time.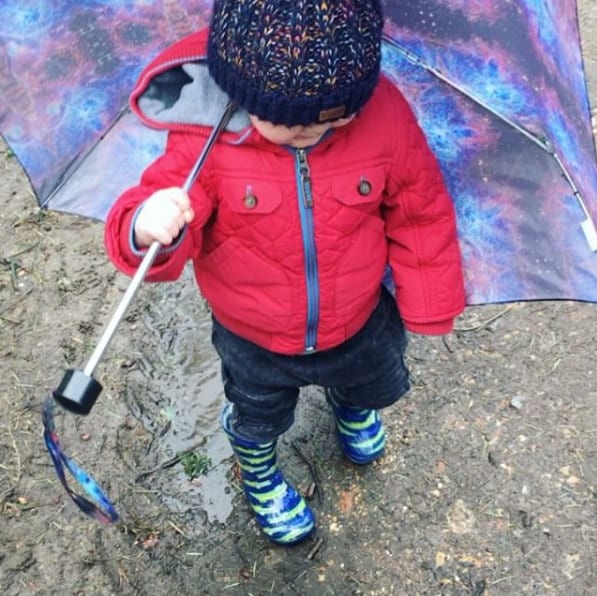 Every thing I design or make start of life in my sketchbook. I'm currently working a range of motivational prints. Here's one I'm thinking might make it as a print.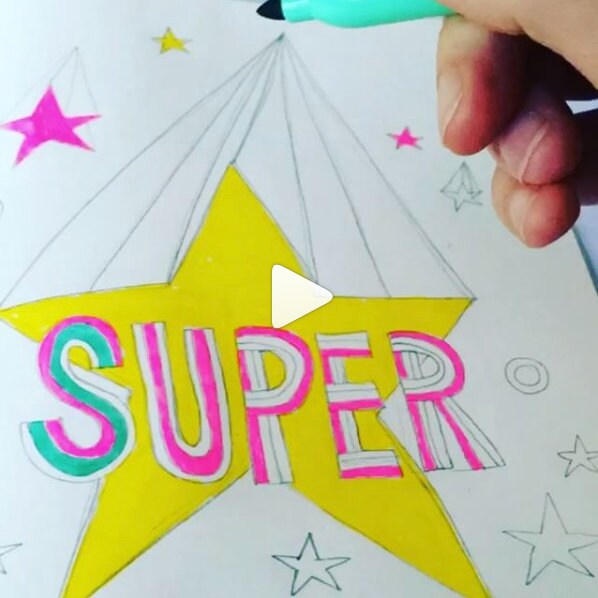 I found this one hard as there are so many amazing talented people! So I've cheated and added a few, some people I know and some I don't. There are all a very talented bunch!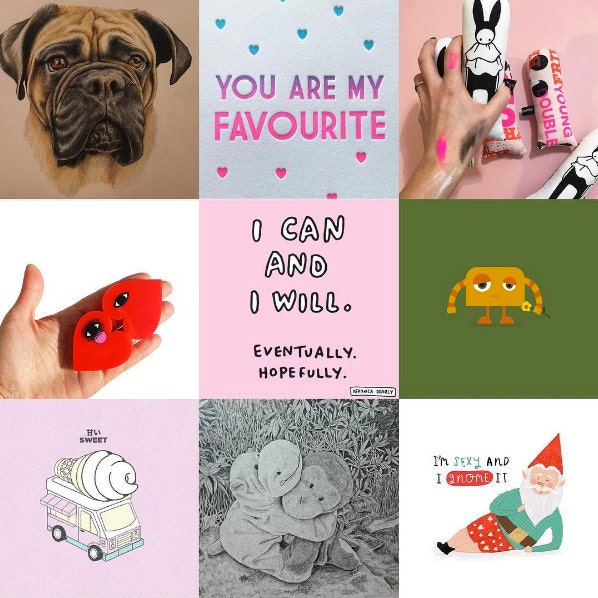 Sorry for the late post, I've been away for the weekend. This is my latest order ready to post. My badges go in small Jiffy bags and anything bigger I post in small boxes.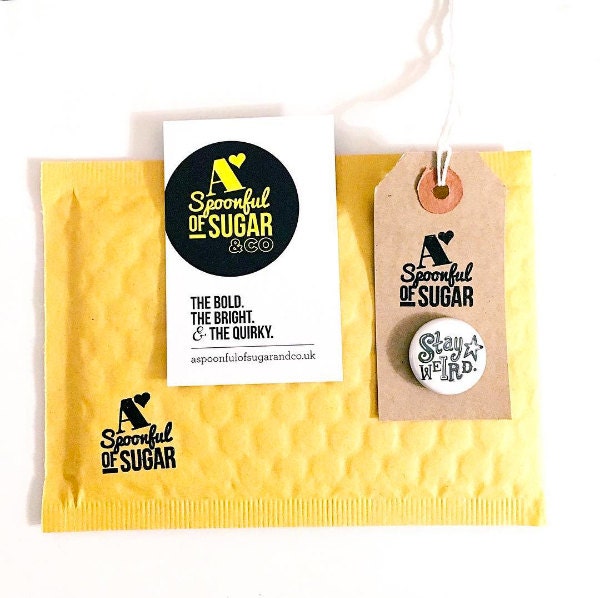 This is a hard one to show visually as I'm currently in the process of a rebrand. My name 'A Spoonful of sugar and co' is inspired by my name, Judy Andrews (not Julie). Also the idea is that all of my jewellery and prints are positive and uplifting. I'm looking to launch my brand refresh at the end of the month. It will more than likely be retaining my favourite colour yellow. Watch this space 💛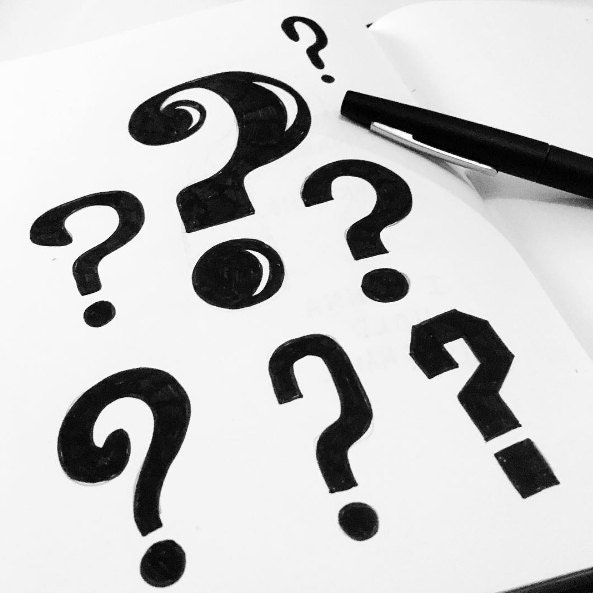 I'm slowly but surely getting better at my photography. It's something I want to get better at. My usual set up is in my studio by the window to make the most of the light. I have a couple of plastic storage boxes I sit grey card on. This is a set up of my new jewellery range where I've had to hang the jewellery using a robot nutcracker, pencil and bulldog clip. All my photography is taken with my iPhone 6s.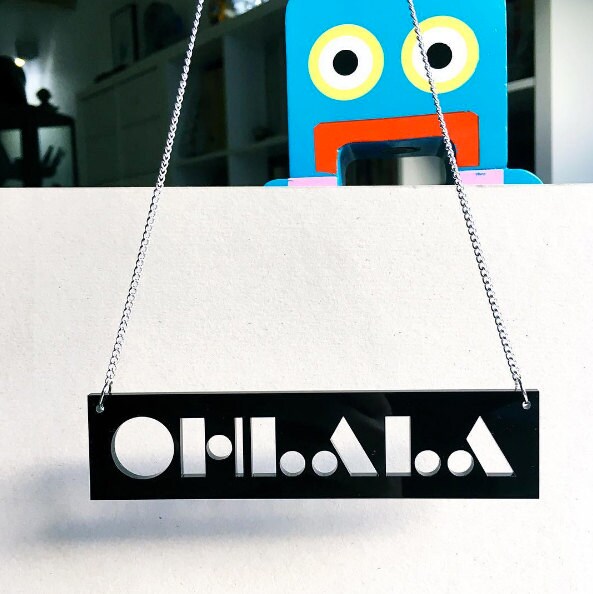 I'm very lucky that I have lots of amazing talented friends. They all inspire me in different ways and are always encouraging and motivating me. This is a photo from the very amazing Denise. www.onehappyday.de
She's a true creative force! And a super friend. She's a talented art director and photographer. She will always go that extra mile.
I also have the most amazing husband, who doesn't realise what a talent he is. He's got a great eye and I use him as a consult.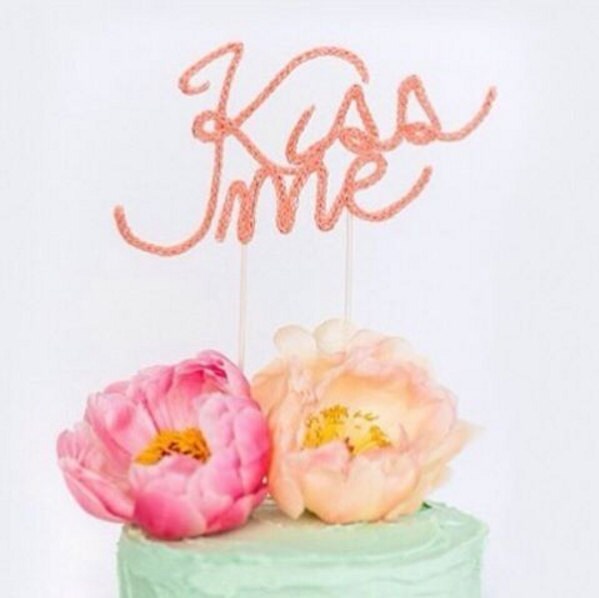 I work from home in my studio so my work clothes are practical. I tend to wear mom jeans and a graphic t. Usually I wear bright colours but today and rocking monochrome. On my feet it can vary from trainers to on a cold winters day big fluffy slippers. When I'm on Bertha my vintage letterpress I wear a large sweatshirt (my husbands old one) and dungarees.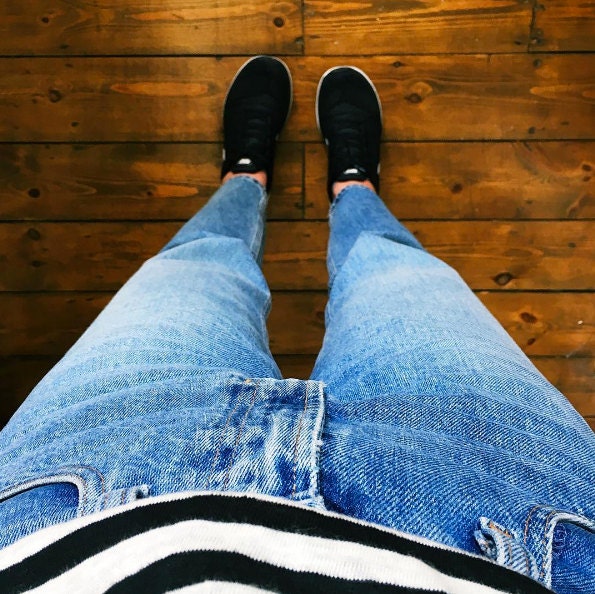 I work full time and run my small business. I'm also a mum of this little munchkin. So although I don't have much spare time I try and make the most of it. I love to sketch and doodle, read fashion magazines, watch greys anatomy on sky, go to art galleries. And of course my favourite just hanging out with this dude, he's a real character and keeps me entertained. 💛